Get Precision & Reliability with Unicorn LeBlond Lathes
Get Precision & Reliability with Unicorn LeBlond Lathes
You need an engine lathe for your machine shop or classroom and are seeking a "unicorn."
A manual lathe that provides the highest level of quality at the lowest price.
Good luck finding that mythical machine, right? Wrong.
Try a LeBlond RKL manual lathe — a real unicorn combining precise ultra-modern machine tool standards with the reliability and durability associated with the time-honored LeBlond name in manufacturing.
Our various lines of manual lathes champion versatility, featuring either gearhead or variable speed spindles.
Check out our precision high-speed metal lathes or precision high-speed heavy-duty models with swings from 14″ to 21".
Need more power? Try an RKL heavy-duty engine lathe with swings from 22″ to 40".
Need an educational lathe or a good gunsmith lathe? LeBlond has you covered with the RKL-1332G.
Precision High Speed Lathes
Precision High Speed Heavy Duty Lathes
Precision Heavy Duty Lathes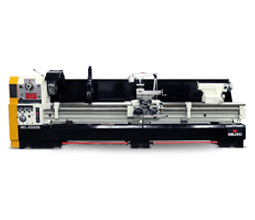 Educational Lathes
A Metal Cutting Monster Unicorn Lathe
Let us explain the main features of our lathes.
A swing is a measurement that indicates the maximum diameter of a workpiece, measured as the distance from the centerline of the lathe's spindle to the closest point on the lathe bed.
Center distance in a manual lathe refers to the maximum length of the workpiece that can be accommodated between the headstock and the tailstock centers. It determines the maximum length of the material that can be machined on the lathe.
Get a New Lathe From an Old Master
LeBlond precision lathes have the history and quality of the LeBlond name with the latest cutting-edge engineering and accessories that will enable your toolroom to handle any job requirement.
The chief benefit of our engine lathes is that they are "new iron" that cut like "old iron".
| | | |
| --- | --- | --- |
| Benefit 1 | Benefit 2 | Benefit 3 |
| High Power & Torque | Precision & Accuracy | Increased Capacity |
Precision Cutting With a LeBlond High-Speed Engine Lathe
LeBlond LTD's precision high-speed manual lathes are made for industrial fabrication and are suitable for processing all types of materials with astounding accuracy.
These are the particular models with the "G" denoting gearhead while "V" means a variable speed spindle:
Bigger & Faster Unicorn Lathes Just as Precise
Get LeBlond Heavy-Duty Lathes For Massive Cuts
Do you have an industrial application that requires heavy workpieces, large-scale components and the need for an operator to perform a wide range of machining operations?
Then check out a LeBlond heavy-duty lathe model with swings between 22-30" and up to 157" between centers. 
Our heavy-duty models are powerful and robust manual lathes used for machining large and heavy workpieces with sturdy construction and high torque capabilities to allow precise cutting, turning and threading operations.
These machines are perfect for industries such as aerospace, oil and gas and heavy machinery manufacturing.
For lathes larger than 30", please contact LeBlond. 
An educational lathe, also known as a teaching lathe or training lathe, is a type of lathe specifically designed for educational purposes and training in machining and metalworking. 
These lathes are commonly found in technical schools, vocational training centers and educational institutions where students learn practical skills by operating similar equipment to precision lathes and others.
If you need an educational lathe, try the LeBlond RKL1332G/E lathe with a 14.17″ swing in diameter and 31.5″ distance between centers.
What is the history of LeBlond Lathes?
LeBlond's history goes way back to 1887 when R. K. LeBlond founded the R. K. LeBlond Machine Tool Company to manufacture metal cutting lathes. In 1981, LeBlond partnered with Makino Milling Machine to found LeBlond Makino Machine Tool Company. In 1998, in a new reorganization, the company was named LeBlond LTD. In all its iterations, LeBlond has over a century of experience in the machine tool industry and has extensive knowledge of LeBlond machinery as well as its subsidiaries like K.O. Lee.
What is the most common lathe?
The engine lathe is considered the most common type of manual lathe used in all machine shop applications. The engine lathe or center lathe can perform operations such as turning, end face, grooving, knurling and threading.
What is the smallest LeBlond lathe?
The RKL-1300 Series is currently LeBlond's smallest machine. It comes equipped with 16-speed settings that deliver excellent torque up to 2000 RPM. The ON-OFF power indicator light, emergency stop push button, coolant pump switch and spindle jogging push button are all ergonomically positioned on the electronic control panel.
You can read more about it or other precision lathes here.
It's a critical feature of a lathe where the workpiece requires a larger diameter hole or needs to accommodate a long or thick cylindrical object. A larger spindle bore allows the lathe's chuck or collet to hold workpieces with a larger diameter to pass through, providing clearance for the rotating spindle and the cutting tool or other accessories to reach the workpiece during machining operations.