K.O. LEE SURFACE GRINDERS
KOL-1632A
15.7″ x 31.5″ (400 x 800mm) TABLE
MANUAL AND/OR AUTOMATIC OPERATION
ELECTRICS: 230V/3ph/60Hz
PERMANENT OR ELECTRO MAGNETIC CHUCK OPTIONAL
OTHER CUSTOMIZED OPTIONAL EQUIPMENT AVAILABLE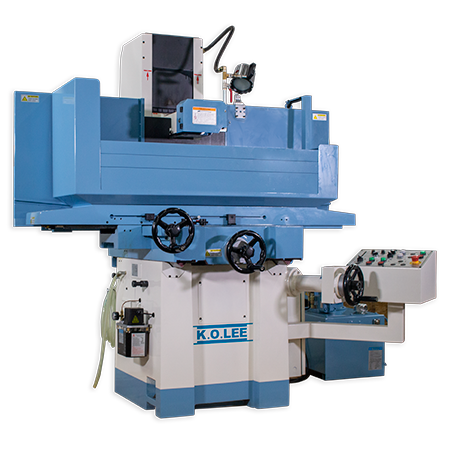 ADD THIS PRODUCT TO YOUR CUSTOM QUOTE
1) Select your options.     2) Click "Add to Quote"!
Precision Grinding Spindle: The K.O. Lee surface grinder precision cartridge is greased and free of maintenance. Comprised of Class 4 super precision angular contact bearings suitable for heavy grinding. The spindle is directly coupled with a V-3 low vibration motor. This ensures spindle run out accuracy of less than 0.002mm (0.00008").
Machine Construction: The main components of the machine, including the base column and saddle, are made of High Quality Meehanite cast iron which is stress relieved to insure rigid stability.
Slideways: Both longitudinal and cross slide ways are precisely hand-scraped and laminated with Turcite-B. This provides a smooth travel and even low wear.
Table Construction: The unique design of the longitudinal and cross slideway's Full Support System maintains accuracy during table reversing and full length of travel.
Table Feeds: The longitudinal feed is manual or hydraulic powered and the cross feed manual or electric motor powered. Both movements have adjustable reversing capability and interlocks to prevent manual operations while in a power feed mode. (Note: The table will traverse in both an automatic and manual mode.)
Automatic Lubrication System: The auto lubrication system, which is standard, provides lubrication on all slideways and leadscrew. This insures a smooth travel and minimizes wear.
Control Panel: All push buttons and switches are conveniently located on the control panel for easy operation.
Electrics: 230V/3ph/60Hz *other voltages available
Automatic or Manual Operation of X Axis (Single Axis Automatic)
Automatic or Manual Operation of X & Z Axis (Two Axis Automatic)
Ball Screw for Cross Feed
Grinding Wheel with Flange
Wheel Flange Extractor
Wheel Wrench
Balancing Arbor & Stand
Auto Lubrication System
LED Work Light
Tool Box with Adjusting Tools
Leveling Screws with Blocks
Operation Manual with Parts List
Diamond Wheel Dresser
KOL-1632A
INCHES
METRIC
General Capacity
Grinding Surface of Table
15.7″ x 31.5″
400mm x 800mm
Maximum Grinding Surface
15.7″ x 31.5″
400mm x 800mm
Distance from Table Surface to Spindle Center
26.6″
650mm
Longitudinal Movement
Table Guideway
V & Flatway
Table Speed (Approx.)
16.4~82.0ft/min
5~25m/min
Cross Feed Movement
Handfeed per Revolution
0.2″
5mm
Handfeed per Graduation
0.001″
0.02mm
Auto Cross Feed Increment (Approx.)
0.020-0.787
0.5-20
Vertical Downfeed
Handfeed per Revolution
0.05″
1mm
Handfeed per Graduation
0.0002″
0.005mm
Micro Feed per Rev. (Optional)
0.00005
0.0013
Grinding Wheel
Wheel Size (Diameter x Width x Bore)
16″ x 1.97″ x 5″
405mm x 50mm x 127mm
Spindle Speed (60Hz)
1750RPM
Motors
Spindle motor
5HP
Cross Feed Motor
1/5HP
Hydraulic Motor
2HP
Weight
Net/Gross
7165lb / 7716lb
3250kg / 3500kg
Machine Dimensions
Length(A) x Width(B) x Height(C)
136″ x 81″ x 75″
3450mm x 2050mm x 1900mm
Packing Size
114″ x 90″ x 88″
290 x 228 x 223
PHONE: +1 (888) 532-5663  Parts: Press 1  Machine Sales: Press 2   Service: Press 3
FAX: Parts and Machine Sales: (513) 943-0101/Service: (888) 532-5663