RKL-1540 (16" X 35") CNC
TEACHABLE PRECISION LATHE WITH GEAR BOX SPINDLE
ONE YEAR PARTS WARRANTY
FANUC 0i-TF (3) – 8.4" (COLOR MONITOR)

ELECTRICS: 230V/3PH/60HZ *other voltages available

LOCKABLE MAIN DISCONNECT SWITCH Switch

COOLANT SYSTEM WITH PUMP

ROTATING CENTER MT4

8" HYDRAULIC SYSTEM CHUCK

HYDRAULIC TAILSTOCK QUILL

ELECTRONIC H4 TURRET

LED WORK LIGHT

LEVELING PADS (8pcs)

OPERATION MANUAL & PARTS LIST

TOOL SET & BOX
ADD THIS PRODUCT TO YOUR CUSTOM QUOTE
1) Select your options.     2) Click "Add to Quote"!
Reliability and performance with a legendary name in machine tools! Try the LeBlond RKL11540 series lathe.
FEATURES
The RKL-1540 is a CNC teachable lathe offering advanced technology that delivers precise turning centers for cutting, milling, threading, tapping and boring. This lathe offers complete flexibility for precise automated machining with a single setup. This CNC teaching lathe has the capability for high volume parts production with a small footprint. The RKL-1540 has a 16.14" swing, 35" distance between centers and a bed width of 10.236".
HEAVY DUTY SPINDLE:
The headstock has an A1-6 cam lock mount spindle nose. The spindle has a low- and high-speed setting of 225-480 and 481-3000 RPMs respectively. The main spindle unit is powered with 5.5kw/7.5kw (30 minute rated). A FANUC 0i-TF (3) – 8.4" color monitor allows for improved CNC setup, monitoring and controls.
HEADSTOCK:
Rugged headstock and gears are hardened by MAAG or REISHAUER. Ground for smooth, quiet and vibration-free running.
Pressurized cyclic lubrication from separate electric pump and oil reservoir provides a constant flow to all gears and bearings, which maintains excellent thermal stability. Hot oil does not stay in the headstock, thus, reducing thermal expansion and workpiece intolerance.
The 4 parallel V-belt assures drive in extremely stable, smooth turning with minimum vibration.
CONVENIENT MANUAL CONTROL:
Providing convenient manual control for X, Z axis. Moveable operation control box is also equipped with two electronic handwheels.
Comprehensive, waterproof function keys and push buttons enhance operational convenience.
FANUC 0i-TF (3) – 8.4" (Color Monitor)
Electrics: 230V/3PH/60HZ *other voltages available
Lockable Main Disconnect Switch
Coolant System with Pump
Rotating Center MT4
8" Hydraulic System Chuck
Hydraulic Tailstock Quill
Electronic H4 Turret
LED Work Light
Leveling Pads (8pcs)
Operation Manual & Parts List
Tool Set & Box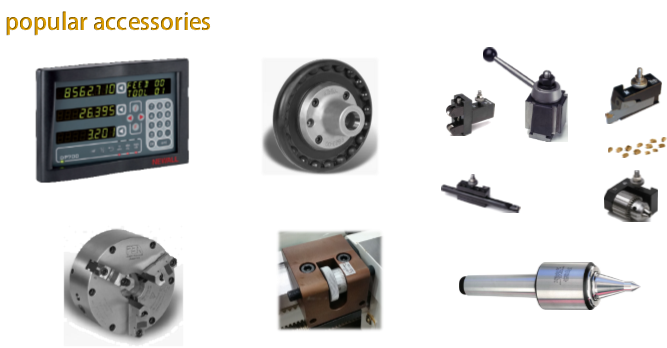 –
RKL-1540CNC
 
CAPACITY
No. of Control Axis
2
Swing Over Bed
16.14″
Distance Between Centers
35″
Max. 4-Way Tool Post
29.52″
Working Length – P8 Turret
24.8″
Working Length – 4 Way Tool Post
8.66″
Working Diameter (Hyd. P8 Turret)
8.27″
Bed Width
10.236″
  –
 
 
HEADSTOCK
Spindle Nose
A1-6
Spindle Bore
2.066″
Gear Steps (Pneumatic Change)
2

Spindle Speed (RPM):
Low Range
225-480
High Range
400-2500

  –
 
 
CROSS SLIDE & CARRIAGE
Cross Slide Travel (X-Axis)
8.07″
Longitudinal Travel (Z-Axis)
32.08″
AC Servo Motor (X-Axis)
0.75kw 3.5N.M~FANUC BATA 4/400IS
AC Servo Motor (Z-Axis)
1.20kw 7.0N.M~FANUC BATA 8/3000IS
Diameter of Ball Screw (X-Axis)
0.787″ P5 C5
Diameter of Ball Screw (Z-Axis)
1.259″ P10 C5
Rapid Traverse Speed (X-Axis)
295.3IPM
Rapid Traverse Speed (Z-Axis)
393.7IPM
—
 
 
TURRET
Size of External Turning Tool
0.787″
–
 
TAILSTOCK
Quill Diameter
2.283″
Quill Travel
5.5″
Quill Inside Taper
MT 4
–
 
 
ELECTRICS
Main Spindle
5.5kw/ 7.5kw (30 min. rated)
Voltage
230V / 3PH/ 60Hz*
Hydraulic Oil Pump
2 HP
Forced Lubrication for Headstock
1/4 HP
Coolant Pump
1/6 HP
–
 
 
WEIGHT
Approximate Weight (lbs)
2865 / 3000 / 3000
Approximate Shipping Weight (lbs.)
3090 / 3200 / 3200

  –

 
 
SHIPPING SKID
Width x Height
45″ x 75″
Length
81.5″ / 90″ /90″
---
PHONE: +1 (888) 532-5663  Parts: Press 1  Machine Sales: Press 2   Service: Press 3
FAX: Parts and Machine Sales: (513) 943-0101/Service: (888) 532-5663