LEBLOND VERTICAL BAND SAWS
LVS-50
VERTICAL BAND SAW BLADE BUTT WELDER WITH INTEGRATED ANNEALING UNIT
BLADE SHEAR & GRINDER
BRUSH FOR CLEANING LOWER WHEEL DRIVE
LOW VOLTAGE LED WORK LIGHT
USE TO CUT COMPLEX SHAPES & ANGLES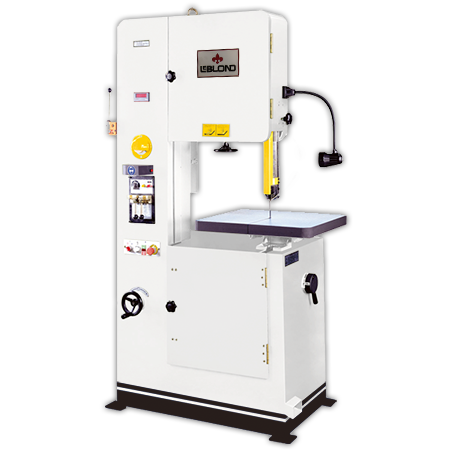 ADD THIS VERTICAL BAND SAW TO YOUR CUSTOM QUOTE
The LVS-50 vertical band saw, also called a contour saw, features a stationary blade while the workpiece is moved across it to cut out complex shapes and angles. You can feed the workpiece into the band saw blade with a power assist mechanism.
The table size of the LVS-50 is 23.6″ x 19.6″ and features a blade length of 153."
Maximum Throat Capacity of 20″
Maxiumum Work Height of 12.2″
Blade Speed Low Range (20-85 m/min)
Blade Speed High Range (120-500 m/min)
Main Drive Motor  2.0 HP
Table Size: 23.6″ x 19.6″
Table Tilt: 4 ways – 15 degrees
Blade Length: 153″
Blade Width: 0.118″ – 0.629″
Butt Welder Capacity: 2.4 kva
Electrics: 230V/460V/3ph/60Hz
Net Weight: 794 lbs.
PHONE: +1 (888) 532-5663  Parts: Press 1  Machine Sales: Press 2   Service: Press 3
FAX: Parts and Machine Sales: (513) 943-0101/Service: (888) 532-5663