INDUSTRIAL K.O. LEE SURFACE GRINDERS
KOL-618
6″ x 18″ (152.4 x 457.2mm) TABLE
MANUAL OPERATION
3 PHASE or SINGLE PHASE
PERMANENT OR ELECTRO MAGNETIC CHUCK OPTIONAL
OTHER CUSTOMIZED OPTIONAL EQUIPMENT AVAILABLE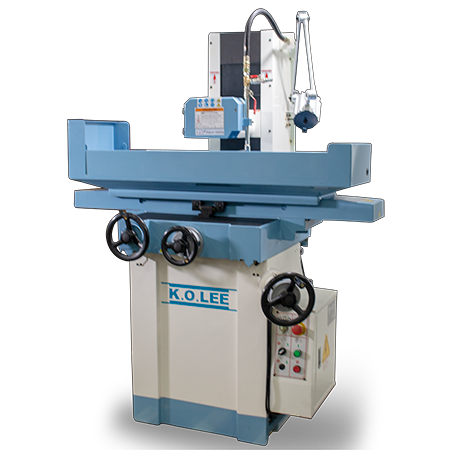 ADD THIS PRODUCT TO YOUR CUSTOM QUOTE
1) Select your options.     2) Click "Add to Quote"!
Economical and easy to operate. Our manual and automatic industrial K.O. Lee surface grinders offer all of the accuracy of
more expensive surface grinders, with the same quality features.
The KOL-618 High Precision Surface Grinder has longitudinal and cross slide ways that are precision handground and then laminated with Turcite-B. This provides a smooth, even travel with low wear. A full support system maintains accuracy during table reversing and full length of travel. Main components include base, column and saddle. They are made of High Quality Meehanite cast iron stress relieved to insure rigid stability.
The features also include slip-ring hand wheel dials, a removable cartridge-type spindle with a pair of duplex
Class 9 bearings and dynamically balanced V-3 motor starting at 1.5 HP. Increased HP packages available.
Electrics: 230/3ph/60Hz *other voltages available
Automatic or Manual Operation of X Axis (Single Axis Automatic)
Automatic or Manual Operation of X & Z Axis (Two Axis Automatic)
Grinding Wheel with Flange
Diamond Wheel Dresser
Wheel Flange Extractor
Wheel Wrench
Balancing Arbor & Stand
Auto Lubrication System
LED Work Light
Tool Box with Adjusting Tools
Leveling Screws with Blocks
Operation Manual with Parts List
KOL-618
INCHES
METRIC
General Capacity
Grinding Surface of Table
5.9″ x 17.7″
150mm x 450mm
Maximum Grinding Surface
5.9″ x 17.7″
150mm x 450mm
Distance from Table Surface to Spindle Center
17.7″
450mm
Longitudinal Movement
Table Guideway
V & Flatway
Table Speed (Approx.)
16.4~82.0ft/min
5~25m/min
Cross Feed Movement
Handfeed per Revolution
0.2″
5mm
Handfeed per Graduation
0.001″
0.02mm
Auto Cross Feed Increment (Approx.)
0.004-0.472″
0.01-12mm
Vertical Downfeed
Handfeed per Revolution
0.05″
1mm
Handfeed per Graduation
0.00020″
0.005mm
Micro Feed per Rev. (Optional)
0.00005″
0.0013mm
Grinding Wheel
Wheel size (Diameter x Width x Bore)
7″ x 0.5″ x 1.25″
180mm x 13mm x 31.75mm
Spindle Speed (60Hz)
3500RPM
Motors
Spindle Motor
2HP
Cross Feed Motor
25W
Hydraulic Motor
1HP
Weight
Net/Gross
1985lb / 2425lb
900kg / 1100kg
Machine Dimensions
Length(A) x Width(B) x Height(C)
82″ x 47″ x 67″
2080 x 1200 x 1700
Packing Size
91″ x 57″ x 77″
230 x 146 x 196
PHONE: +1 (888) 532-5663  Parts: Press 1  Machine Sales: Press 2   Service: Press 3
FAX: Parts and Machine Sales: (513) 943-0101/Service: (888) 532-5663