Radius Grinding Sharpening
The K.O. Lee KOL40M and KOL60M Tool & Cutter Grinders come equipped with a handy attachment – the Radius Grinding Sharpener that is used for grinding and sharpening complex tool forms, primarily spherical surfaces.
The attachment consists of two slide bases from which you can make micrometer adjustments as well as an adjustable workhead. The grinder head has three degrees of movement: vertically, movement into the workpiece and tilt.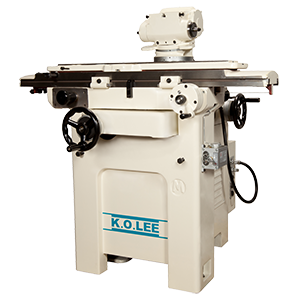 An operator usually sets these measurements and keeps them static while using the attachment on tool & cutter grinders. The holding fixture on these types of radius grinding sharpening attachments is a collet or chuck fixture that "indexes and has a separate Y movement to allow accurate depth setting and endmill sharpening," according to Wikipedia in its discussion of tool & cutter grinders.
The workhead has M.T. No. 5 or No. 12 taper hole spindles. An operator can index a straight flute cutter by manipulating an index plate mounted on the back of the workhead.
When using the radius grinding sharpening attachment on K.O. Lee Universal Tool & Cutter grinders, you always sharpen the periphery of a milling cutter before creating the radius by holding the spindle perpendicular to the axis of the grinding wheel spindle or parallel with the movement of the machine table.
If you're interested in new K.O. Lee grinders, call LeBlond Ltd. at (888) 532-5663 Ext. 202. If you're interested in new LeBlond metal lathes or need original OEM parts for LeBlond, K.O. Lee, Standard Modern, Johnson Press, Deka Drill and W.F. & John Barnes equipment, call (888) 532-5663.